Here in the UK, mainstream thought sometimes seems be shifting towards notions so perilously simplistic that they really ought to be outliers in the parade of ideas vying for acceptance. You know the kind of thing. Foreigners are taking our jobs. Muslims are terrorists. Pakistani men are paedophiles.
But there's a bit of a British paradox going on. We are living in a time when ideas like these may seem a bit more attractive than they might have done a while ago. But the far right groups actively pushing these ideas are on the wane. Of late, the BNP has been crippled by debt, spanked at the ballot box and wracked by arcane internecine feuding. The English Defence League, meanwhile, has a struggle on its hands - the struggle to attract significant numbers of marchers to its demonstrations. This was exemplified on Saturday, when only around 300 EDL supporters rocked up in Bristol for a demo. This was despite the confident prediction of a turnout of thousands from one notable American EDL fan:

The very compact size of the EDL's group in Bristol is made very clear by a few seconds of stop-motion footage shot by the good people at
a tech start-up firm
in the city:
It wasn't just the small size of the EDL turnout on Saturday that was striking. Also notable was the childishness of their antics. The predominantly short-haired chaps on the march seemed to be having a lot of fun while singing their own version of that old nursery favourite
She'll Be Coming Round the Mountain
, which, as every EDL member is doubtless aware, is based on an old negro spiritual song.
[EDIT: THE VIDEO THAT APPEARED HERE WHEN THIS PIECE WAS WRITTEN HAS SINCE DISAPPEARED FROM YOUTUBE, SO BITS OF THE NEXT PARAGRAPH NO LONGER MAKE COMPLETE SENSE - 4/2/2013]
As the singsong continues, check out the three particularly chunky chaps at the front. Presumably they will have already been on YouTube to revel in Saturday's little adventure. One wonders which advert popped up when they did so. The first time
this is my england
had a look, the ad which preceded the video was one that definitely seemed aimed the fellows in the foreground: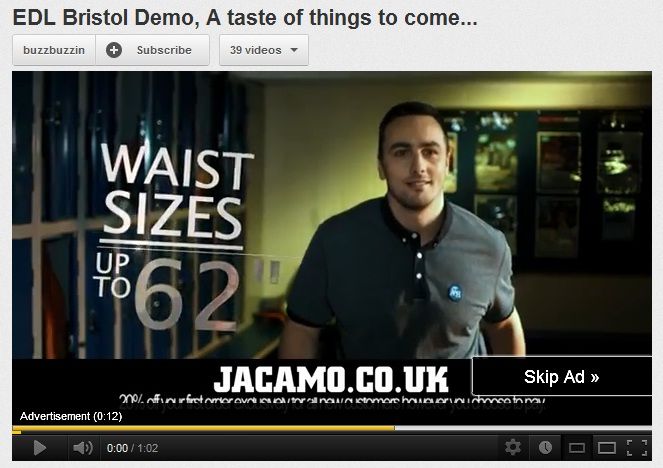 A handful of fatties singing silly camp fire songs? This is a taste of things to come? Terrifying.